Recreational Camping Activities in NH
Mountain Lake Campground provides fun camping activities in NH, for kids and adults to spend quality time together and create fantastic bonding memories. Contact us today for advance booking.
Memories to Last a Lifetime
In today's hyper-connected and nonstop world, you deserve a little rest, relaxation, and family time. Fortunately, Mountain Lake Camping Resort offers one of the best family campgrounds in New Hampshire to escape the worries and stresses of everyday life. It's sure to be a vacation that you and your family members will never forget.
Something for Everyone
Planning the perfect getaway for everyone in your household can be tricky. It seems almost impossible to find an activity or destination that pleases the whole family. However, you'll never need to worry about that when you book with Mountain Lake Camping Resort. From swimming, fishing, and kayaking to relaxing, crafting, and dining—there's truly something for everyone. The best part about our campground is that you can customize the entire experience to complement the interests of your loved ones. Take a minute to check out the impressive selection of activities here.
Planned Summer Activities
At our camping resort, we are happy to offer several planned events and activities to enjoy throughout the summer months, like kayaking, fishing and swimming. Our activities also include creating a variety of fun crafts, such as candles and ceramics. We also have regular wagon rides around the campground, which your whole family will enjoy. So, when you are looking for a variety of summer activities during your next vacation, staying at our family campground is sure to provide you with a multitude of memorable experiences. You're going to love our family camping resort!
Your Enjoyment Is Our Top Priority
As a full-service campground, we want to help make your stay with us as comfortable and entertaining as possible. Memories made while camping can last a lifetime, and staying at our site is an excellent way to spend time with your family. Our sites are fully equipped to handle all types of trailers and RVs and are also perfect for those who want to rough it in a tent. We also have several other accommodation options, including log cabins, a yurt and a tipi. So when you are looking for your next amazing vacation, let us provide you with the accommodations and recreational activities you need.
Contact Us to Learn More
We invite you to reach out to us today with any questions that you may have about the activities on this page or to make camping reservations. We look forward to hearing from you soon, and of course, we can't wait to welcome you to our gorgeous little piece of nature.
Splash Zone
more details

Our heated 60' pool and waterslides are great family fun. The Mountain Lake Camping Resort heated pool and water slides are for registered campers only, sorry no day-use passes. The pool is seasonal and open starting Memorial Day Weekend through Labor Day Weekend and closes for the winter the day after Labor Day. The hours of operation of the pool and water slides vary during May and June. The hours of operation in July and August are 10:00 AM until 8:00 PM. There is no lifeguard on duty at any time.

Pool Area Rules: Children under 15 years of age are not permitted in the pool area without a parent or guardian that is 21 years or older. No glass or food is allowed in the pool area. No rafts or ball is playing permitted. No drinking beverages while in the pool. All beverages need to be kept by your lounge chair.

Water Slide rules: These are speed slides. Your child should be comfortable with laying on his/her back while going down the slides. Arm floats, swim vests, or any other type of swimming aid is not allowed. Sunglasses, eyeglasses, and goggles are not permitted.
No hats, water shoes, etc., are allowed.
No jewelry is allowed. The maximum weight of the rider allowed is 250lbs.
The minimum height of the rider is 36″.
Cutoffs or swimwear with exposed metal objects is not allowed. Anyone under the influence of alcohol or drugs is not permitted on slides. All rides must lay on their backs, feet first. No doubles are allowed.

If you are under the influence of alcohol, being in the pool area or water slides area is prohibited.

Rafts, tubes, and ball-playing are not allowed in the pool area but can be enjoyed in our lake.
Playground
more details

Come play with us on our playground and pirate ship. The playground is open from dawn to dusk. Pets are not allowed in the playground area.
Kayaking/Boating
more details

Take your kayak or canoe with you to enjoy on our 30-acre pond. If you don't have your own, you can rent one of ours! We rent kayaks, canoes, and paddle boats. Rentals are available on a first-come, first-served basis.
Fishing
more details

Our lake is a warm water lake. We have Perch, Pickerel, Sunfish, Bass, Bluegill, and other warm-water species. We allow catch and release only. Enjoy fishing from our designated fishing dock or one of our canoe rental boats.
Games
more details

Play a strategic game of chess or checkers with our life-sized chess and checker pieces or test your skills in a friendly game of shuffleboard.
Crafts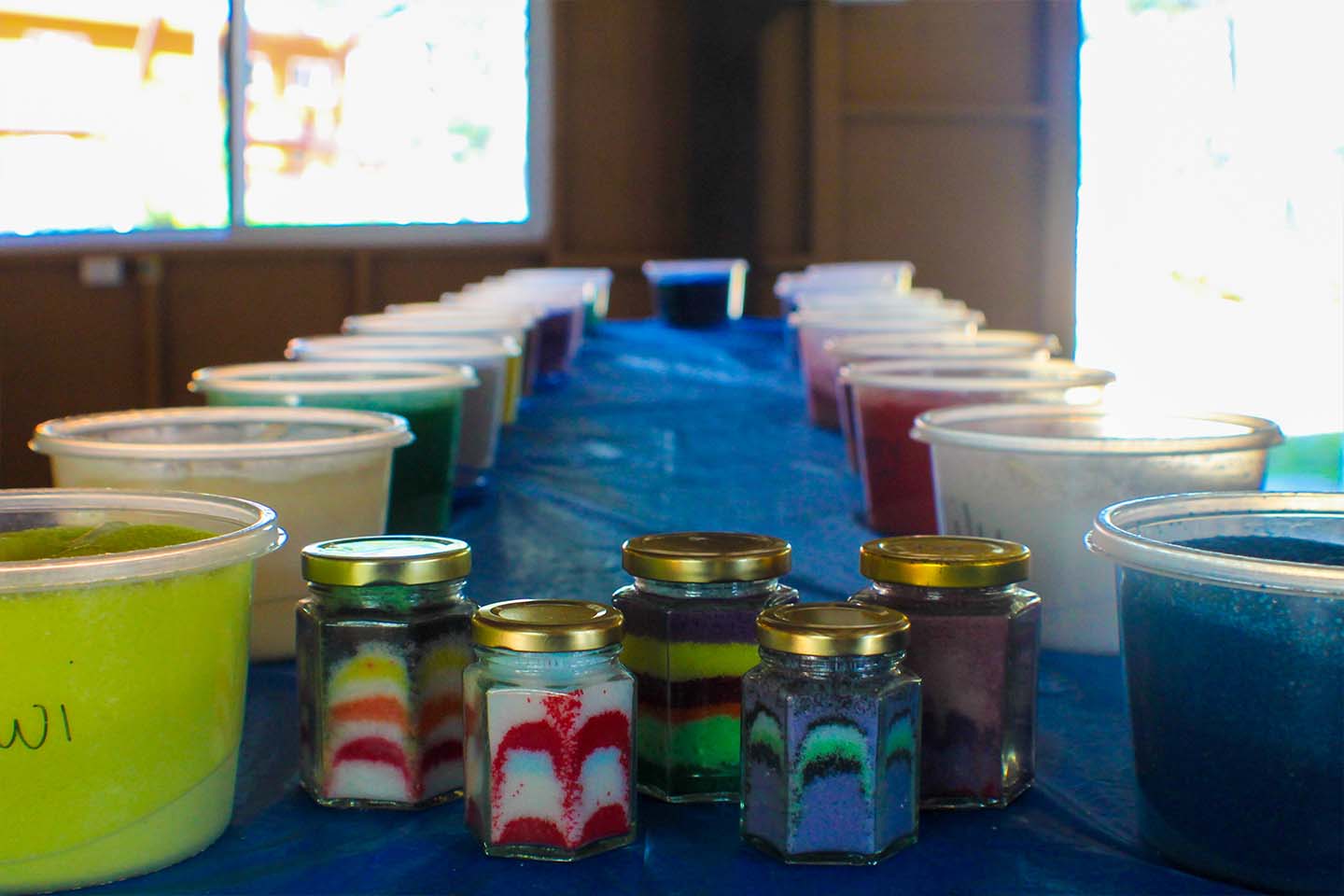 more details

Scheduled activities are all summer long, including ceramics, candle making, wagon rides, and more starting Father's Day Weekend through Labor Day Weekend.
Beach Fun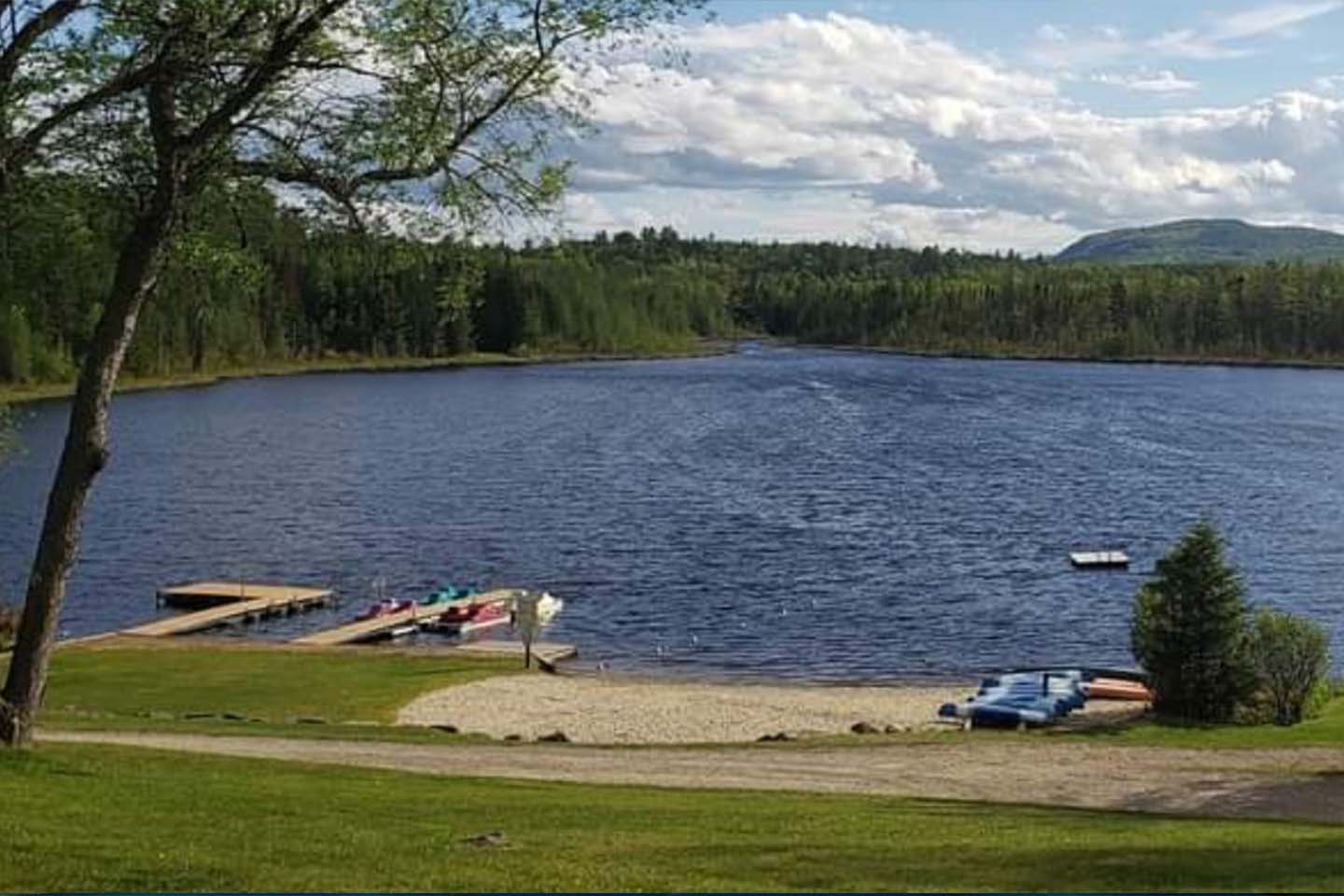 more details

Enjoy the day building sandcastles, swimming in our designated swim area, or just laying in the sun. Our beach is open from dawn to dusk. There is no lifeguard on duty at any time.
Breakfast
more details

Enjoy one of our famous delicious and freshly made Mountain Lake Muffins any day of the week! We can deliver them to your site, or you can stop by and pick them up when you are ready. We also have regular and flavored coffees for sale at our camp store.